In 2015 the United Nations introduced the Sustainable Development Goals (UNSDG) and the Institution of Civil Engineers (ICE) has identified 5 out of the 17 goals where engineers can lead, turn their insights and knowledge into action, calling for sustainable solutions for a growing population.

The five United Nations Sustainable Development Goals are as follows:




ICE Training shares these goals with the engineering community as they reflects the values and practices of the Institution of Civil Engineers (ICE).

View the list of recommended training courses below that meets the five sustainable development goals

Click the image to enlarge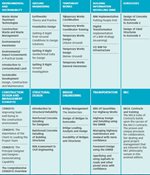 Global Engineering Congress - October 22-26

Bringing together the worldwide engineering population to agree a united response to delivering the UN Sustainable Development Goals.

Book your place now.