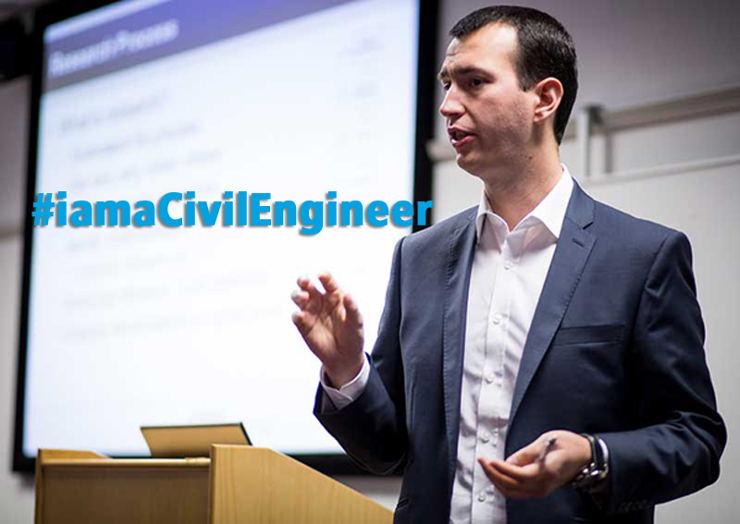 …according to Dr Christian Christodoulou, 32

Civil engineering is very diverse and rewarding profession

"I have had the pleasure to work on some really exciting project from the maintenance of the main cables at Humber bridge, to restoring a cast iron canal aqueduct dating back to 1852, to designing multi-span post-tensioned bridges in Saudi Arabia, exporting technological innovation to New Zealand, acting as independent technical advisor in USA to legal subject expert on a technical case in Australia and more recently supporting the nuclear industry. Never a dull moment really!"

The Humber Bridge is the UK's longest pedestrian/cyclist footbridge in the world and it is indeed one of a kind!

"Working on the Humber Bridge's maintenance was a challenge!

The bridge is asymmetrical, unlike most suspension bridges. The main cables consist of 14,948 high strength galvanised wires resulting in a cable diameter of approximately 680mm. The north side span is considerably shorter and steeper than the south side span and for this reason, it has an additional 800 wires to withstand the higher tension."

It is not always about Design, Construction and Maintenance of the physical and naturally built environment

"We spend far too much time simply managing processes and procedures. Also, one needs to have the drive to inspire people, set strategic goals, identify short, medium and long-term training and continuous professional development action plans for all employees.

Above all one one should set their core values and live them in everything they do, leading by example from the frontlines."

_____________________________

Athens-born Dr Christian Christodoulou is a Regional Director, Transportation at AECOM's Birmingham office and currently, holds the record of being the youngest ever ICE Fellows.