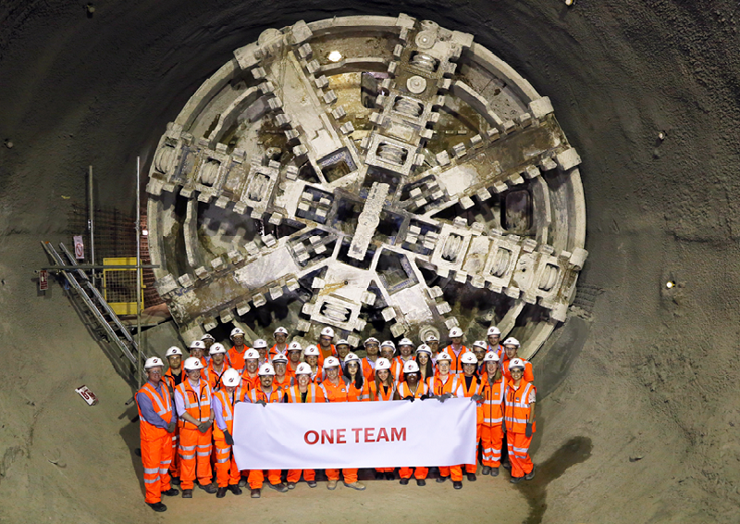 As part of the Brunel International Lectures in the ICE's 200th anniversary year, Linda Miller has been inspiring engineers around the world with her presentation on what she calls the 'Six Inescapables' for future success.
"They may sound straightforward, but I can tell you that, as a people, as an industry, we are not broadly good at these things," she says.
If you're good at these things, she adds: "Please continue out there coaching our colleagues every chance you get!"
Here are her 'Six Inescapables' of engineering:
1. It all starts with trust
Linda describes trust as the 'glue' of a project. She said the first things engineers need to do is to commit to creating it.
"We engineers like to jump right into the facts," she says. "'What's the scope, what are the technical parameters, where are the specs?' Taking a moment to consider the state of trust in the room seems ridiculous.
"And yet, it's everything. It will guide who speaks up, and how honestly they share, whether new options, solutions or innovations are put on the table."
Trust doesn't happen automatically, Linda warns.
"People like us have to care about creating it."
2. Ban the word 'they'
Linda bans her team from using 'they'. She says it's important for engineers to foster a 'we're all in this together' attitude.
"Whether we're frustrated with a subcontractor, or often, for me, the architect, it's easy to separate yourself and lay blame. Responsibility is lifted from us!
"But that's poison, and if you use it, you give people around you the permission to use it too," she says.
Linda makes sure that whether speaking about success, progress, or mistakes, her team always refers to "we".
"Blame, or the fear of blame, can corrode confidence and make people act defensively. And 'they' is the beginning of blame.
"When you force people to change language, behaviour follows, and ultimately mindset follows, too."
3. Learn to disagree well
Disagreements are inevitable when it comes to massive infrastructure projects, which are often full of surprises, despite your best efforts. Sometimes it's even healthy and necessary to disagree.
However, Linda says that disagreeing well is what the industry needs to learn to do – and it's harder than it sounds.
'I can't tell you how many times I've seen people tear into each other in damaging, complete relationship-breaking ways," she says.
"My personal strategy for years has been, when I want to massively express frustration or disagreement, is to say to myself 'Long game, long game, what's your long game.'
"I suggest you cultivate your own strategy as well."
4. Create a fishbowl mindset
People "rise to the mission better" when they think their work's being noticed from the outside, by superiors and peers, and if they understand how their work fits into the overall success of a huge project, says Linda.
"I make a point to frequently and repeatedly describe to the team how we're viewed from the outside – by the HQ, executive management, government officials, peer teams, and so on," says Linda.
"It's meant to counter the feeling that we're toiling away here in painful obscurity. And a healthy dose of pride and competition with other teams is no bad thing, either."
5. Seek and give air cover
If people believe that they're not going to be thrown under a bus or humiliated for making a mistake, their natural creativity will be massively enhanced, says Linda.
And it's about allowing people to think outside the box, rather than encouraging unnecessary risk-taking.
"Seeking air cover is the concept of getting protection ahead of making a tough decision. This happens in our industry all the time.
"Giving active air cover to others is just as important. It requires courage, but builds trust in leaps," she says.
To give an example of this, Linda mentions the Crossrail project that she worked on as project manager for Farringdon Station in London.
At the time, Crossrail repeatedly had told the Royal Navy that the project wouldn't block the passage of ships in the capital's waters.
"Then I had to go before the admirals and say 'if we don't build a coffer dam, we risk catastrophic inundation in our tunnel below'. I first went to our Crossrail CEO and asked him to phone over to the admiral and say: 'A person from my team is coming to see you. Please hear her out.'"
6. Laugh a lot
If trust is the glue, laughter is the superglue, according to Linda.
"We engineers equate competence and intelligence with seriousness. Someone explained to us once that laughter must mean we're naïve or uncommitted. We know the opposite is true," she says.
"Teams that can laugh at themselves, or amid incredibly hard days, survive and thrive better on all levels – from project accomplishment to health."