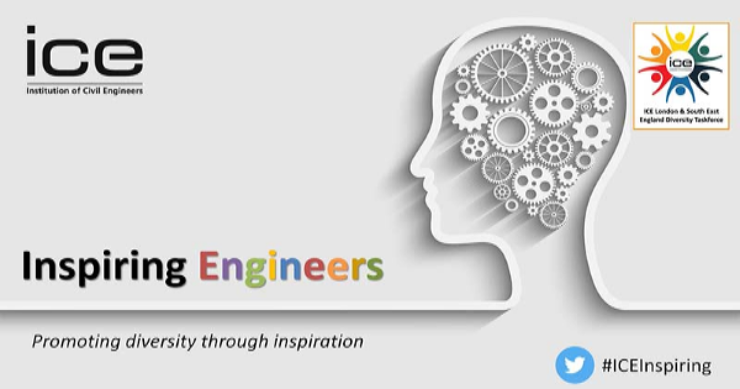 It is no secret that civil engineering as a sector has been slow to diversify. Whilst companies and organisations are working hard to create a workforce of different backgrounds, genders, ethnicities and sexualities, the industry as whole still fails to represent the public it serves.
Yet, many civil engineers are challenging the norm and showing that where you come from, what you look like or who you identify as, has little impact on the job you do. They are showing that it is no longer necessary to 'try and fit in'. Instead, they can actually use their differences to benefit the organisation they work for and to think differently about the challenges they face.
Some are at the start of their careers; some will be in senior positions, but all will have experiences of how the industry can shift to a new normal that welcomes difference and breaks away from homogeneity.
Inspiring Engineers, a new programme of events organised by the ICE London and South East England Diversity Taskforce, will seek to provide a space for members to share their experiences with others.
The programme invites industry leaders to speak on how they have achieved success in their fields, with the aim of inspiring a new generation of diverse civil engineers to follow in their footsteps.
Each month, a speaker will give an informal topic on how they made it in their career. Speakers will include Beth West, Commercial Director of HS2, Colin Glen, Senior Engineer at Skanska and Rachel Skinner, Head of Development at WSP Group. Given in an informal setting, the events will encourage attendees to ask the questions they have always wanted to ask and share their own experiences of the industry.
Inspiring Engineers talks
Inspiring Engineers kicks off with a talk by Clare Wildfire, Technical Director of Mott MacDonald on 'how to use systemic innovation to improve people's lives' on 3 March.
The second talk will see Michele Dix, Managing Director of Crossrail 2 discuss 'how to become one of the Top 50 women in engineering' on 7 April.
At the third talk, ICE will welcome former Deputy Mayor for Transport and Global Transport Leader at Arup, Isabel Dedring who will speak on 'How to shape the world through politics' on 5 May.
ICE London and South East England Diversity TaskforcE
Inspiring Engineers has been organised by the ICE London and South East England Diversity Taskforce, a cross regional initiative to improve diversity amongst civil engineers. If you would like to get involved in the Taskforce's work, please contact Suzanne Moroney at suzanne.moroney@ice.org.uk.