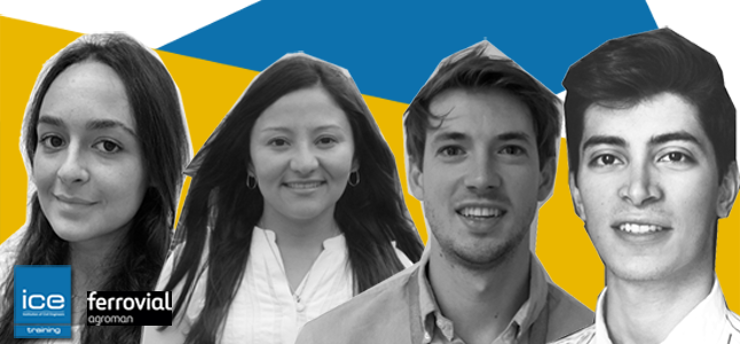 We are following the professional development journey of some of the Ferrovial Agroman graduates.
Following the completion of ICE Training's Technical Report Writing Course, Nour and Claudia share how attending this ICE course helped them perform better at work.

Nour Kasem, graduate design engineer
"I have recently attended the Technical Report Writing Course at the Institution of Civil Engineers. One of the most important learning points for me was understanding the audience you are writing for and tailoring the report so that it provides the information expected from it, which is crucial in construction. As part of my role, I am responsible for reviewing reinforcement detailed drawings and issuing comment sheets addressing any changes required with thorough explanations. These comment sheets are then issued to our detailing company which is based abroad. Therefore, attending this course has reminded me of the importance of using clear and simple English to convey a message to an audience that might not necessary have the language proficiency expected, which could affect the outcome.

Another relevant example from my role would be writing visual task sheets and reports. If convoluted language was used, it may distract the reader from key points being made regarding health and safety, for example, which is paramount to our works.

I will definitely continue to use these simple yet effective points learnt thanks to this course in my career to insure my written communications are clear and effective."

Claudia Quitian, graduate environmental engineer
"For many engineers soft skills and writing may be areas for development as we have primarily focused on "numerical-related" degrees.

The writing pieces I have created in environmental engineering have depended on the recipients, purpose or urgency of the message. Therefore, they might need to vary in length, formality, numerical or non-numerical details and structure, to give a few examples. I have learnt that all these types of texts could easily be part of any of my normal working days. And yes, they all may need to be produced in just one day! So why do we need to improve our writing skills? Because such important infrastructure projects as those led by Ferrovial Agroman involve not only construction , but also good communication.

As engineers, we need to convey our ideas professionally, clearly and effectively. The book and presentation from the ICE contain very useful information and tips, and I would like to highlight a message I found interesting: although the theory for good writing is there available to us, what will also contribute considerably to our professional progression is learning how to use those various tools for the correct purpose and to meet the real needs of the project."

About the course: Technical Report Writing
This intensive one day training course provides the foundations for effective technical writing in a business environment. Learn more here.