Watch webinar recordings
Across April, ICE held two webinars relating to CDM 2015 and health and safety in construction.

The hugely popular 10 Things you need to know about CDM was held on 13 April. Hosted by members of the health and safety panel, it provided an invaluable snapshot into the recent regulatory changes and how they will affect organisations. Click below to watch the recording.

;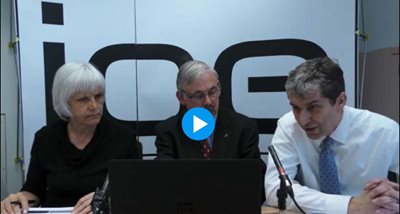 Get trained by the speakers
Tony Putsman

Director, Xenophon Project Services Limited/ Construction Team Technologies Ltd

BSc (Hons), MICE, CEng, AIEMA
Liz Bennett

Director, Habilis Health and Safety Solutions Ltd

BSc CEng MICE PGCE CMIOSH FRSA
The programmes, peer reviewed by the ICE Health and Safety Panel, offer the following benefits:
Clarity on the differences between CDM 2007 and CDM 2015 and how to make a smooth transition from the 2007 Standards
Programmes developed for different areas of specialty, ensuring you can confidently apply the new regulations in your organisation, according to your job role
Guidance on how to build your capability in implementing the highest standards of health and safety in the workplace
Click here to find out more about the suite of programmes and to book the next available training.

The second webinar - CDM 2015 and the Health and Safety Register - was held on 21 April. This programme looked at CDM 2015 and the 'competencies' it requires of clients, and those employed to assist them, in order ensure the health and safety measures put in place on projects are legally compliant. Click below to watch the recording.