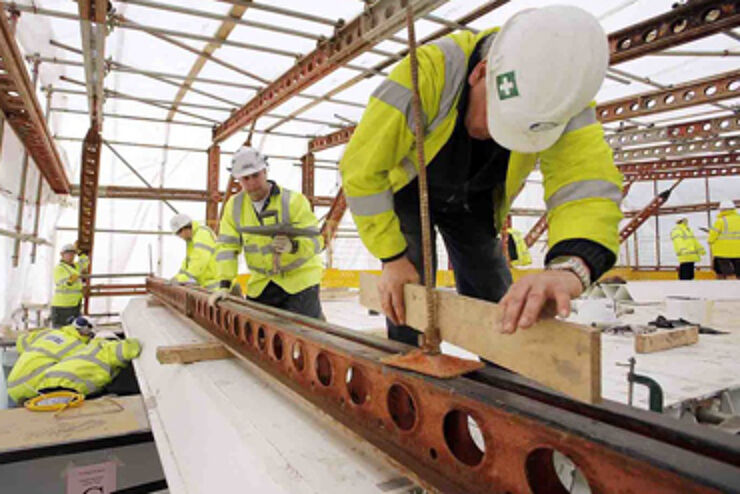 Get all the CDM knowledge you need this year with free ICE events, ICE training and ICE publications dedicated to the new CDM Regulations.
Free events

For April, ICE will be holiding two webinars dedicated to CDM 2015 and health and safety in construction.
this webinar will provide an invaluable snapshot into the recent regulatory changes and how they will affect your organisation.
Find out more and book online
The second webinar -
CDM 2015 and the Health and Safety Register
- will be held on
21 April
. This programme looks at
CDM 2015 and the 'competencies' it requires of clients, and those employed to assist them, in order ensure the health and safety measures put in place on projects are legally compliant.
It considers how membership on the ICE Health and Safety Register enables you to demonstrate these competencies, thus protecting your interests as well as those of your employer and clients. You can express interest in applying for the ICE health and Safety Register by emailing registers@ice.org.uk.
At the centre of ICE's knowledge offering on CDM is ICE Training's new suite of CDM 2015 training programmes. They have been peer reviewed by the ICE Health and Safety panel and are specifically designed to clarify the key regulatory changes being put into place on 6 April.
Delivered by industry experts, they provide guidance that will ensure a smooth transition from CDM 2007 across organisations and their project teams. All training programmes are open for booking, and will run from April in keeping with the timelines for the official Government enforcement.
Click below to find out more about the programmes and to book online.
CDM 2015: Overview
1 day
CDM 2015: The Complete Guide
2 days

Ideal if you are looking for an introduction the new regulations, the basic requirements of those who have responsibility for health and safety on projects, and how to apply CDM 2015 in practice.
Read more and book.

A comprehensive two day programme that will guide you through the requirements of all duty-holders under CDM 2015. It will ensure that you have clarity on the necessary health and safety procedures to be implemented throughout the life-cycle of the project, whatever your role.
Read more and book.
CDM 2015: The Principal Designer and Designer - Demonstrating Capability
1 day
CDM 2015: The Importance of the Client in leading the Project Team
1 day


This useful one day training course focusses on the process of managing and co-ordinating health and safety in design, covering essential aspects of the role such as communication, team-based risk management, change management and accident prevention strategies.
Read more and book.

This one day training programme focusses on the responsibilities of the client under CDM 2015 ensuring clarity on how to build the project team, and the impact client decisions have on health and safety practice throughout the project.
Read more and book.

Recommended reading
Practical Guide to Using the CDM Regulations 2015: Teamwork not Paperwork
Tony Putsman and Paul McArthur
April 2015 | £30.00

Co-written by ICE Training tutor and ICE webinar co-host, Tony Putsman, this informative guide

summarises the key features of the legislation, with a holistic, team-oriented approach to defining the best practice behaviours for effective team working.


Read more and purchase.
CDM 2015: Questions and Answers, 3rd edition
Pat Perry | April 2015 | £40.00

This is a practical handbook that includes numerous case study boxes to show how theory works in practice, as well as checklists and templates to aid the reader in their implementation of the latest revisions to the regulations.
Read more and purchase.
CDM Regulations 2015 Explained
Raymond Joyce | May 2015 | £65.00

This is a straightforward, independent and authoritative assessment and analysis of the new 2015 Regulations. It closely examines the roles of each party involved in a construction project and aims to assist assist each of the duty holders fulfil their obligations and avoid the penalties of non-compliance.
Read more and purchase.