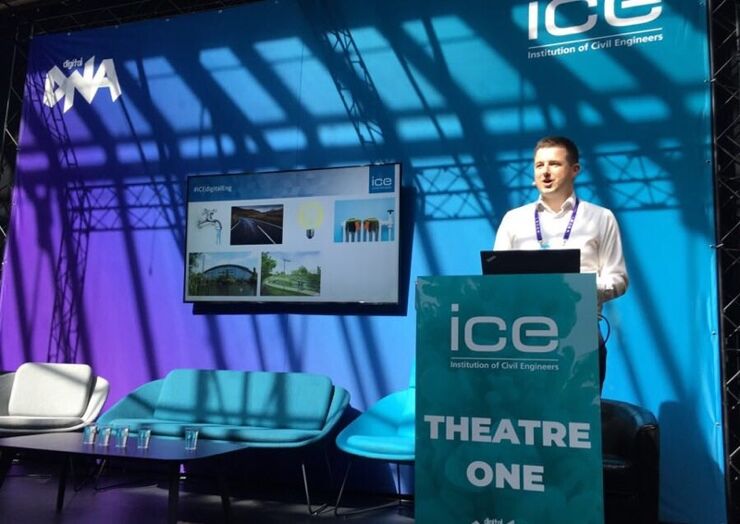 Increasing population, economic growth and climate change are putting significant pressure on infrastructure. To address this, our existing infrastructure needs to become smarter. It needs to work as an optimised system, reducing disruption and congestion.

Data-driven technologies, from digital twins to artificial intelligence to blockchain, are revolutionising civil engineering. AI techniques, such as machine learning, can deliver greater insights into infrastructure assets and systems, enabling greater efficiency. Infrastructure professionals need to engage and partner with the tech sector to take full advantage of the opportunities that new technology offers and deliver better outcomes for society.

This is why I spoke at tech conference Digital DNA in Belfast this week.
Better data, better decisions
It's obvious that when people have more information day-to-day, they can make better decisions.

Knowing what the weather will do, what time the train will run or when that broadband outage might occur helps minimise wasted time in the day and allows people to work effectively and maximise their leisure time.

No one enjoys spending time in a traffic jam because of a road closure they didn't know about or waiting around at home for the broadband technician to arrive.

The same is true for operating infrastructure. Having more information or data about infrastructure assets enables them to be used more productively.

Data informs how our infrastructure is built, managed and eventually decommissioned. Real-time data can inform how our infrastructure is operated on a second-to-second basis. Data is now as much a critical component of our infrastructure as bricks and mortar.

Knowing the location of all the country's infrastructure and how it's being used will help decision-makers and operators to plan and maintain these crucial systems better.
The value of open data
But simply having the data isn't enough. It needs to be shared across the public and private sectors, with the appropriate levels of privacy and security, to enable its value to be fully leveraged for public benefit.

Our culture must change from one of closed, siloed thinking to an open, transparent culture of effective data management. The model needs to move from keeping all data confidential to minimum levels of commercial confidentiality.

The UK can get more out of our existing infrastructure through the judicious use of data and by sharing the resulting insights in an appropriate way.

For example, Transport for London (TfL) has already demonstrated that releasing data to the public can save users time to the equivalent economic value of between £15m and £58m per year.

Open travel data can support travel apps and real-time alerts to save time, reduce uncertainty and lower information costs, supporting growth in the tech economy and increasing the use of public transport.

By using a travel app, London Underground users find it easy to navigate around the network. However, the Tube app wasn't developed by TfL itself but instead was created by someone on the other side of the world who programs as a hobby.

TfL's willingness to open up its data had created an opportunity for the best minds to create a solution. Just imagine what could happen if others followed their example.
---
Click here to read the full blog post, including parts on Digital Twins and the real-world benefits of data improvements.